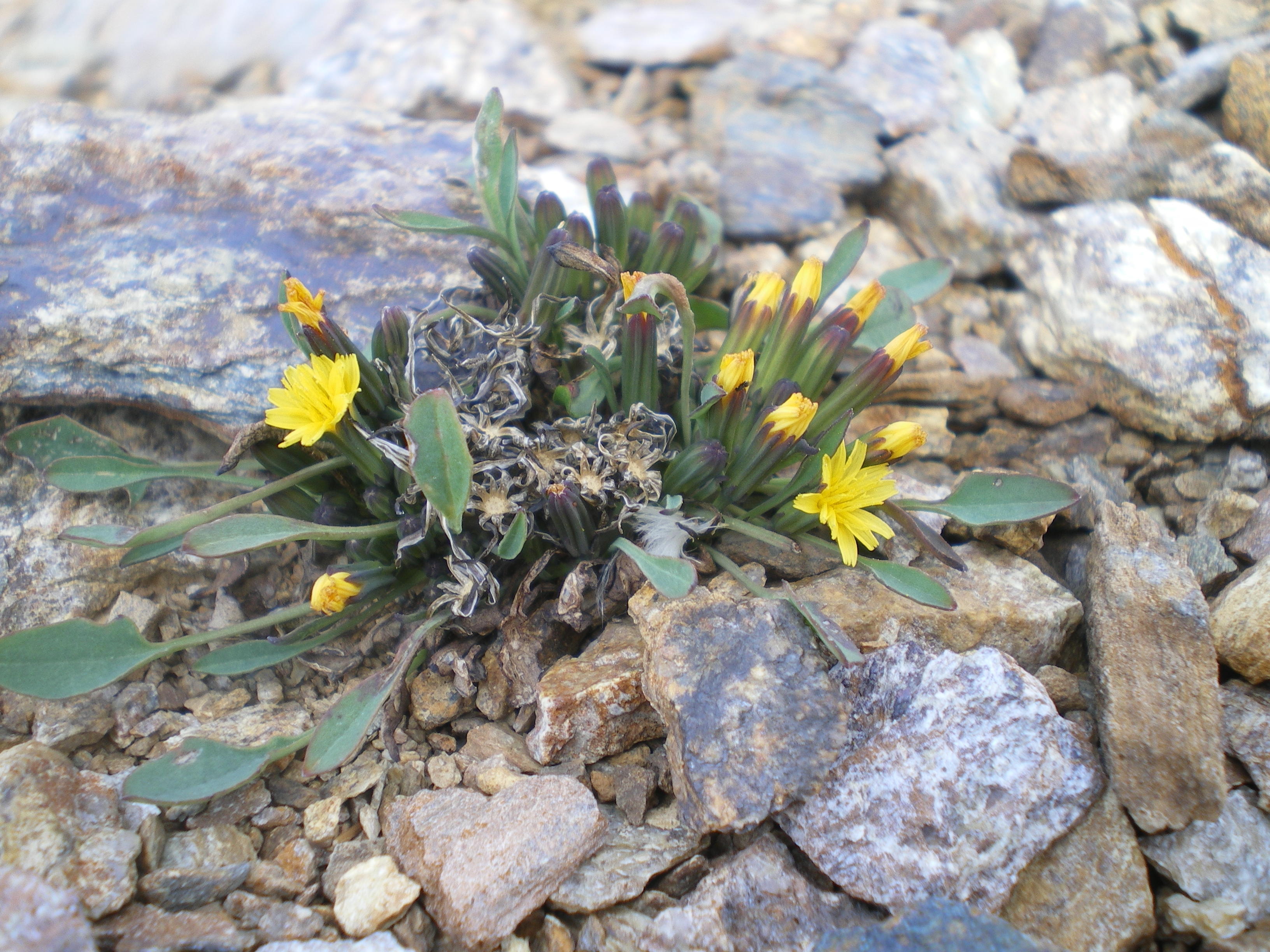 Description
Herbs 2–4 cm tall, perennial, glabrous, glaucescent. Roots shoot-bearing; subterranean shoots slender, often branched. Stem delicate, branched from base, leafy. Basal and stem leaves with a 4–14 mm petiole; leaf blade ovate, orbicular, or elliptic, 1–2.6[–3.5] × 0.4–1[–1.7] cm, base cuneate, margin entire, apex rounded to acute. Synflorescence tufted-corymbiform, with few to many capitula. Capitula with 9–11 florets; peduncle filiform, most shorter than involucre. Involucre narrowly cylindric, 9–10 × 2–3 mm. Phyllaries green, abaxially glabrous, margin scarious; outer phyllaries ovate to lanceolate, longest 2–3 mm, apex acute; inner phyllaries 8, apex ± acute. Florets yellow. Corolla 7–9 mm. Anther tube 2–2.5 mm. Achene pale yellowish, columnar to fusiform, ca. 5 mm, apically more strongly attenuate. Pappus 4–5 mm. Fl. and fr. Jun–Sep. 2n = 14.

from: Shih C. & Kilian N. in Wu Z. Y. & al. (ed.), Flora of China 20–21: 327. 2011, Beijing & St Louis.


Herb, perennial, rhizomatous, (3)-10-20 cm high, with taproot. Caudex 1.0-4.0 cm, branched. Flowering stems 1-10 (or more), erect or ascending, terete, medullary, often tinged purple, glabrous, striate, robust, unbranched or branched; branches remote. Rosette leaves oblong, ovate, elliptic or obovate, 1.5-6.0-(9.0) cm long, 0.4-1.3-(2.5) cm wide, entire, lyrate-pinnatipartite or lyrate, entire or dentate, subacute or obtuse, petiole-like attenuate, glaucous or tinged purple at base; lateral lobes 2-6. Cauline leaves ovate to obovate to circular, 2.0-9.0 cm long, 0.5-2.5 cm wide, entire, runcinate or lyrate-pinnatifid, entire or dentate, acute to obtuse, petiole-like attenuate, glabrous, glaucous and tinged purple often, the upper ones reduced to scales. Synflorescence corymbiform or paniculiform, with 5-80 (or more) heads. Peduncle 0.3-2.0 cm long. Heads with 9-12 flowers. Involucre at flowering cylindrical, 8.0-13.0 mm long, at flowering (1.5)-3.0-4.0 mm in diameter; involucral bracts 10.0-11.0 mm long, glabrous, margin scarious or sometimes white scarious; outer involucral bracts ovate to oblong, acute; inner involucral bracts linear to oblong, obtuse, margin sometimes minutely ciliate at apex, white scarious. Receptacle areolate or foveolate, naked. Corolla ligulate, 7.0-12.0 mm long, yellow; tube 3.5-4.0-(5.0) mm long, glabrous; ligule up to 1.5 mm wide, tinged purple on outer face. Anthertube 2.3-2.5 mm long; apical appendages acuminate, 0.8-0.9 mm long. Style branches 0.8-1.1 mm long, yellow. Achenes cylindrical to fusiform in outline, 4.0-8.0 mm long, 0.5-0.7 mm wide, scabrid, smooth or wrinkled, subterete, yellowish brown, with 10-13 ribs, attenuate into an ill-defined beak or attenuate; beak c. 1.0 mm long. Pappus white, 4.0-6.0-(7.0) mm long, persistent or caducous, flexible.

Based on: Babcock, E. B. 1947: The genus Crepis 2. – Univ. Calif. Publ. Bot. 22 (as Crepis nana); Bobrov, E. G. and Tzvelev, N. N. (ed.) 2000: Flora of the USSR 29, Compositae, Tribe Cichorieae. – Enfield (as Crepis nana); Bogler, D. J.: 36. Crepis Linnaeus. – Pp. 222-239 in: Flora of North America Editorial Com. (ed.), Flora of North America 19. – New York: Oxford University (as Crepis nana).

Distribution
Asia-Temperate:

Altay

native

C,D;

Buryatiya

native

D;

Chita

native

D;

Irkutsk

native

D;

Kamchatka

native

E,F;

Kazakhstan

native

A,G;

Khabarovsk

native

E;

Krasnoyarsk

native

H,I;

Magadan

native

E,F;

Mongolia

native

A,J;

Tibet

native

A;

Tuva

native

D;

Uzbekistan

native

K;

Xinjiang

native

A,L;

Yakutskiya

native

I
Northern America:

Alaska

native

M,N;

Alberta

native

N,O;

British Columbia

native

N,O;

California

native

N;

Colorado

native

N;

Greenland

native

O;

Idaho

native

N;

Labrador

native

N,O;

Montana

native

N;

Nevada

native

N;

Newfoundland

(

Newfoundland

native

N,O);

Northwest Territories

native

N,O;

Nunavut

native

N,O;

Oregon

native

N;

Utah

native

N;

Washington

native

N;

Wyoming

native

N;

Yukon

native

N,O
Credits
Dürbye T. 2009: Images (2 added)
Enke N. 2009: Images (2 added)
1
1.

This fact has been moved from Askellia nana (Richardson) W. A. Weber to this taxon.