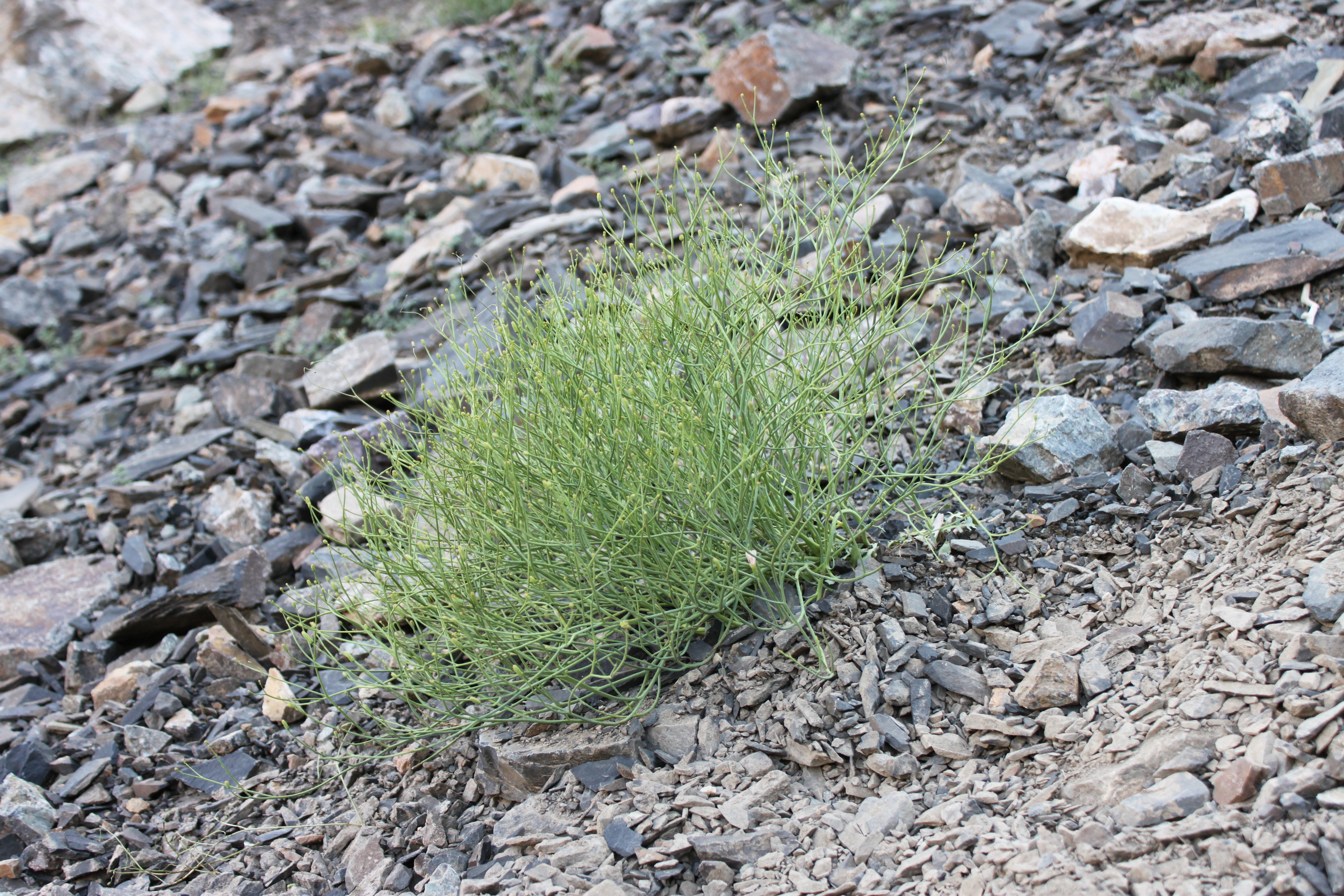 Systematics
This species, usually treated as
Cephalorrhynchus polycladus
, must not be confused with the one treated as
Cicerbita polyclada
, which is based on
Lactuca polyclada
Boiss., not on
Zollikoferia polyclada
Boiss. Both are alpine species but are readily distinguished already habitually: In
Cicerbita polyclada
, the repeatedly ± divaricately and intricately branched stems are conspicuously inflated and rather soft, whereas they are slender and indurate in
Melanoseris polyclada
.
Melanoseris polyclada
is closely related to
M. "brassicifolia"
(
Lactuca brassicifolia
) and
M. "takhtadzhianii"
The three species have been treated as the section
Zollikoferiastrum
by Sennikov (in Lazkov & al. 2014) of a very wide genus
Lactuca
. In view of the lack of morphological synapomorphies of the lineages of subtribe
Lactucinae
revealed by Wang & al. (2013) in their molecular phylogeny, Sennikov (in Lazkov & al. 2014) lumbed all genera of the core
Lactucinae
under
Lactuca
. In
Lactuca
M. polyclada
has to be named
L. piestocarpa
since the epithet "
polyclada
" is already occupied there.
References
Lazkov G. A., Sennikov A. N., Koichubekova G. A. & Naumenko A. N. 2014: Taxonomic corrections and new records in vascular plants of Kyrgyzstan, 3. – Memoranda Soc. Fauna Fl. Fenn. 90: 91–110.
Wang Z.-H., Peng H., Kilian N. 2013: Molecular phylogeny of the
Lactuca
alliance (
Cichorieae
subtribe
Lactucinae
,
Asteraceae
) with focus on their Chinese centre of diversity detects potential events of reticulation and chloroplast capture. – PLoS ONE 8(12): e82692.
// ➪ //